Version: 2.8
ADx 2.8 (xx/2/2021) Release Notes
Overview​
This release introduces the following key features and bug fixes:
For more details on each feature, see List of New Features and Improvements
Java Version​
ADx 2.8 on-prem installation packages support Java 11 and 17. We recommend Java 17. Within a major Java version, it is fine to update to the latest release (for example 17.0.x) to receive latest available bug fixes and security patches.
The on-prem installation packages for this release have been tested with JDK JDK 11.0.9.1 (package zulu11.43.55-ca-jdk11.0.9.1-linux_x64)
Changes in upcoming versions​
Nothing is going to be removed in future release.
Runtime Properties and Configuration changes​
No runtime properties have been added, changed or removed in this release.
General Features​
ACL support has been enhanced and more operations are now supported. This includes ACL on repository level and on content level. New operations supported now include:

Content download
Content conversion
Security operations related to working with repositories

To provide more security on the repository level, applying operations on contents in CMIS and Documentum repsoitories requires that you are logged in to ADx with the same credentials you use to log in to your CMIS or Documentum system. To achieve this, and Administrator must create a new user in ADx, and this user must have the same username and password that are used to log in to CMIS or Documentum systems that a certain ADx repsotiroy is conntected to.

Important! This might require you to change some of your workflows in order to be able to work with contents in CMIS or Documentum repositories. Make sure you create new users in ADx that correspond to user data you use to access CMIS or Documentum systems that connected to your CMIS or Documentum repsoitories in ADx. Or manually grant content operations to your current user by defining ACL rules on repository level.

Working with Custom Types in ADx has been improved. The New and Make a Copy actions now provide more options to easily create and copy custom types, and to copy contents as other custom types. For more on ADx Custom Types, see Configuring Custom Types. When you click New, a list of custom types available in your repository shows. See the figure below.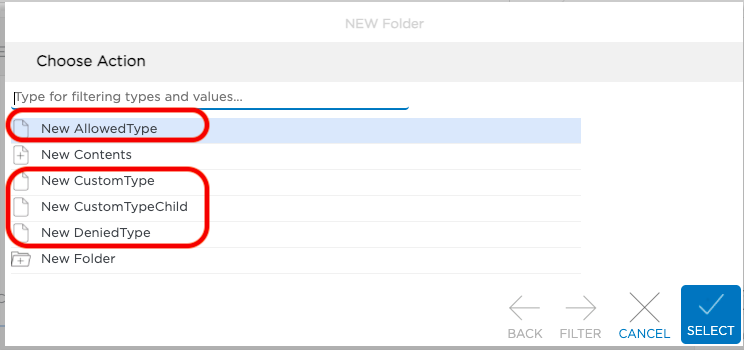 When you click Make a Copy, you can copy a content as is or as any other custom type. In this case, only fields in common are preserved and properties of the new custom type show in the copy dialog.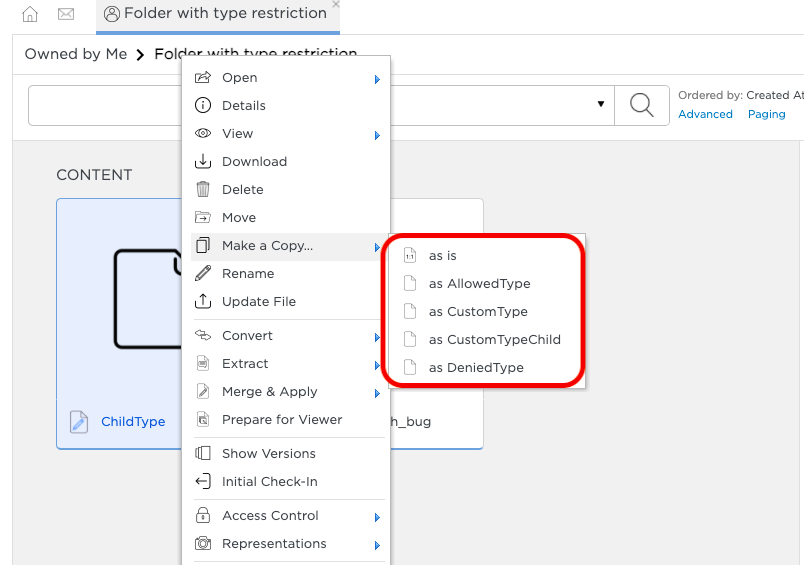 ADx now enabels you to view and download renditions for CMIS and Documentum repository contents. See Viewing Renditions for CMIS and Documentum Repositories

You can now upload contents directly to the root folder in CMIS repositories.

A new option for choosing the exact PDF format when converting contents to PDF. Also, now you can flatten PDF pages into images that are then merged into one PDF file.

Recycle Bin view. The ADx explorer now by default offers a new Entry-Point: Recycle Bin - As the name suggests a user is now able list/search previously deleted entries (folders or contents). This obviously is only possible as long as the entry is not physically deleted in the background (specified by the configured TTL on the repository) . On top- if the according permission is granted - the user is also able to either Restore (recursively) or Delete permanently one or multiple of theses entries.

Access permissions have changed for CMIS and Documentum repositories. To be able to perform actions on contents of these repositories, you mus log in with the same user credentials that you use to login to the CMIS or Documentum system. To do this, in ADx Administrator view, create a new user with the same credentials and give it the appropriate roles.
Now you can easily search and replace in one or multiple documents with the Search and Replace option. This allows you to replace certain details in your documents with one click. To do this, go to More > Merge & Apply > Search And Replace.

Now you can perform conversion operation on multiple contents at the same time. Conversion operations are available on the folder level. This means that all contents are converted one by one. For more details, see Bulk Conversion of Contents.
REST​
UI Changes​
Global actions menu has been moved to the top bar.

Possibility to display files in JSON, XML, YAML, and others in Webreader with syntax highlighting.

Now you can define the Root Folder Id for CMIS and Documentum repositories. This folder doesn't have to be a cabinet. When you synchronize and activate, and then you click on Browse, ADx shows folders/contents of that particular root folder, and if you now create new Folder or Content, ADx places this content inside that root folder you have previously defined.

Previously, when you clicked on Browse in Cmis/Dctm repo it showed all entries without a parent. Also when you added a new folder without parent, Cmis would create new cabinet but Dctm would create a folder under My Home Cabinet, which is in fact the cabinet of the current Documentum user. Now, Documentum creates new cabinet, so we have the same behaviour in CMIS and Documentum.

The Structured menu option of the left side on Explorer has been deprecated in ADx 2.6.
WebReader​
ADx 2.6 enables you to view documents in WebReader side by side. For example, if you want to compare different parts of the same document or if you want to view two documents side by side.
With ADx 2.6, you can view emails and their attachments in WebReader. When you upload content of the EML type, WebReader displays these contents as separate documents if these emails contain attachments.
Documentation​
A new topic about additional ways to monitor ADx status and get deeper information on ADx internal status has been added. See Additional Endpoints for Monitoring ADx Status.
The access control (ACL) topics have been improved, and new topics have been added.
Performance​
The loading of ADx landing page has been optimized and loading time has been reduced.
Runtime Properties and Configuration changes​
ADx​
No new runtime properties for ADx in this release.
Conversion​
No new runtime properties for the Conversion service in this release.
Tribefire​
List of New Features and Improvements​
The following features are added in this release:
| Feature Number | Priority | Summary | Description |
| --- | --- | --- | --- |
| AD-1788 | Critical | Metadata mandatory check not working on custom types | |
| AD-1095 | Critical | Full ACL Support (RepositoryLevel, Explorer, All Services, ...) | |
| AD-2027 | Bug | -- None -- | Add flatten pdf feature / add pdfToPdf conversion option |
| AD-1795 | Task | Critical | Add replace feature in html/docx |
| AD-1751 | Task | Critical | Add compare mode to WebReader |
| AD-1689 | Task | Critical | Add custom download actions in WebReader |
| AD-1687 | Task | Critical | Add possibility to create content from external source |
| AD-1686 | Task | Critical | Add custom TOC to webreader |
| AD-1685 | Task | Critical | Add annotations per document |
| AD-1052 | Story | Critical | Auto Expand Search Results |
| AD-2029 | Task | Major | Add rootFolderId in CMIS/Dctm repository connection configuration |
| AD-1994 | Task | Major | Support showing renditions for Cmis/Dctm repository |
| AD-1919 | Story | Major | Find MIME Type of mail attachment if only application/octet-stream is available |
| AD-1909 | Story | Major | DHC should always create new report whether it is in temp folder or not |
| AD-1891 | Task | Major | Explorer should reload single content on notification |
| AD-1768 | Story | Major | Add recycle bin to users view |
| AD-1746 | Task | Major | Support download renditions for Cmis/Dctm repository |
| AD-1677 | Story | Major | Support video transcoding |
| AD-1578 | Story | Major | Rework Explorer Actions |
| AD-1595 | Story | Trivial | All conversion operations should work on Folder level |
| AD-1974 | Story | Minor | Support textual files (with highlighting) |
| AD-1796 | Task | Minor | Copy folder structure |
| AD-1787 | Story | Minor | Allow to navigate through files in all directions |
| AD-933 | Story | Minor | Jump to position on page via outline |
Bug Fixes​
| Issue | Priority | Summary | Description |
| --- | --- | --- | --- |
| AD-2054 | Blocker | AutoCommit Issue. Sometimes the Auto commiting is not working. Save notification is not sent. | |
| AD-1945 | Bug | Critical | Standard Content Icons will be lost after tmp Cleanup |
| AD-1831 | Bug | Critical | Delete file error in conversion |
| AD-1821 | Bug | Critical | Buttons are missing for CMIS/Documentum repository in UI |
| AD-1816 | Bug | Critical | Uploading an empty file to S3 causes an Exception |
| AD-1484 | Bug | Critical | Export conversion job is really slow |
| AD-1361 | Bug | Critical | Problem in WebReader with compound documents after print |
| AD-1898 | Bug | Major | Min and Max length metadata not respected on initial upload |
| AD-1820 | Bug | Major | Structure not presenting root (parentless) content for Standard repository |
| AD-1778 | Bug | Critical | Folder can be its own parent. |
Updating Conversion and ADx​
For information on how to update previously installed Conversion and ADx, see the following:
Known Issues​
Below you can find a list of problems we're still working on.
Known Issues ADx​
Reimporting an Existing Repository Requires UI Reload​
In some cases, when reimporting an existing repository, repository properties are not rendered correctly. To make sure properties are rendered correctly, refresh your browser after each import.
Cannot migrate legacy contents simultaneously​
Due to cache database being shared between repositories, it's not possible for now to run multiple migration jobs from a single legacy repository at the same time. You need to wait for the previous migration to finish before running a new one.
Min and Max length metadata not respected on initial upload​
String length checks are only applied when values are updated but not on the initial upload.
Known Issues Conversion​
Minor Warnings​
StatusLogger Error​
The following error currently appears in ADx console output. It doesn't affect ADx functionality or performance.
ERROR StatusLogger No log4j2 configuration file found. Using default configuration: logging only errors to the console.




  Set system property 'org.apache.logging.log4j.simplelog.StatusLogger.level' to TRACE to show Log4j2 internal initialization logging.



Tomcat Shutdown Warning​
The following warning is sometimes thrown by Tomcat when stopping the service:
./tribefire-console-stop.sh




...




Tomcat did not stop in time.




PID file was not removed.




To aid diagnostics a thread dump has been written to standard out.




Tribefire Host stopped.



This happens when shutdown takes longer than Tomcat expects. Shutdown may take several minutes, which will result in this message being printed out. This warning could appear on both Conversion and ADx.
Java Warnings​
When using Java 9 or later, the following warning may appear in application logs and also during installation procedure:
WARNING: An illegal reflective access operation has occurred




WARNING : Illegal reflective access by com.braintribe.model.processing.itw.asm.AsmClassLoaderWrapper$1 (file:/path/to/instant-type-weaving-1.0.28.jar) to method java.lang.ClassLoader.defineClass(java.lang.String,byte[],int,int)




WARNING: Please consider reporting this to the maintainers of com.braintribe.model.processing.itw.asm.AsmClassLoaderWrapper$1




WARNING: Use --illegal-access=warn to enable warnings of further illegal reflective access operations




WARNING: All illegal access operations will be denied in a future release



Ticket: https://jira.braintribe.com/browse/AD-341
Hibernate Warnings​
The log files may contain Hibernate-related warnings. They can be identified based on the fully qualified class which starts with org.hibernate, as in:
WARNING org.hibernate.tuple.entity.EntityMetamodel 'HHH000084: Entity [com.braintribe.model.user.User] is abstract-class/interface explicitly mapped as non-abstract; be sure to supply entity-names' [TribefireServices-2.0:tribefire-services#initialize,ApplicationLoader:/tribefire-services#initialize]



Ticket: https://jira.braintribe.com/browse/AD-342
These warnings do not affect the functionality of the application and can be ignored. We are working on a fix.